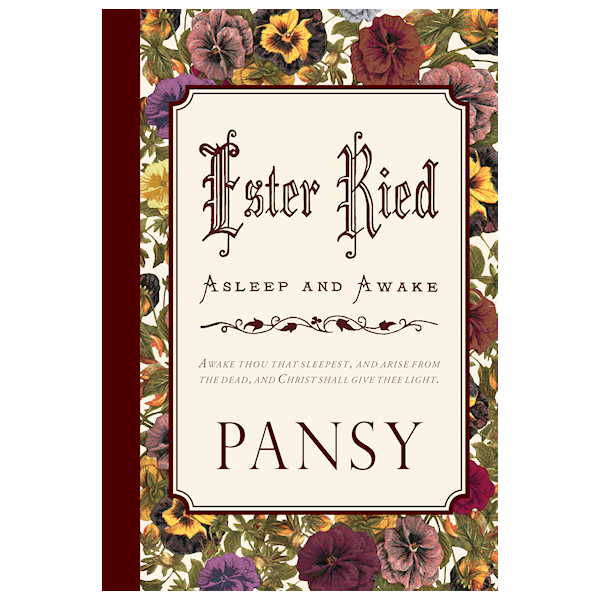 Ester Ried: Asleep and Awake by Pansy
---
Ester endured life as a half-hearted Christian, unhappily going through the motions of her housework. "O, Ester was asleep! She went to church on the Sabbath, and to preparatory lecture on a week day; she read a few verses in her Bible, frequently, not every day; she knelt at her bedside every night, and said a few words of prayer—and this was all!" She traveled to New York and was excited to be in her cousin's wedding. Abbie, a strong Christian, brought much reflection into Ester's life. "Ester saw with wide, open eyes, and thoroughly awakened soul, that there was a something in this Christian religion that Abbie had and she had not." This popular story by Pansy illustrates Ester's journey to become a stronger, more committed Christian.
Paperback 6X9, 214 pages. ISBN  9781935626961
Isabella Macdonald (1841–1930) was born in Rochester, New York, in a well-educated and religious family. The nickname "Pansy" was given to her from her father, because of picking pansies in her childhood. She was also called "Belle." She attended school at Seneca Collegiate Institute at Ovid, New York, and then at Young Ladies Institute, Auburn, New York. In 1866, she married Gustavus Rosenberg Alden, a Presbyterian minister.  She was dedicated to communication of the Gospel through writing. She wrote Sunday-school lessons and magazine articles. She wrote hundreds of books and stories in her lifetime.
---
Share this Product
---
More from this collection