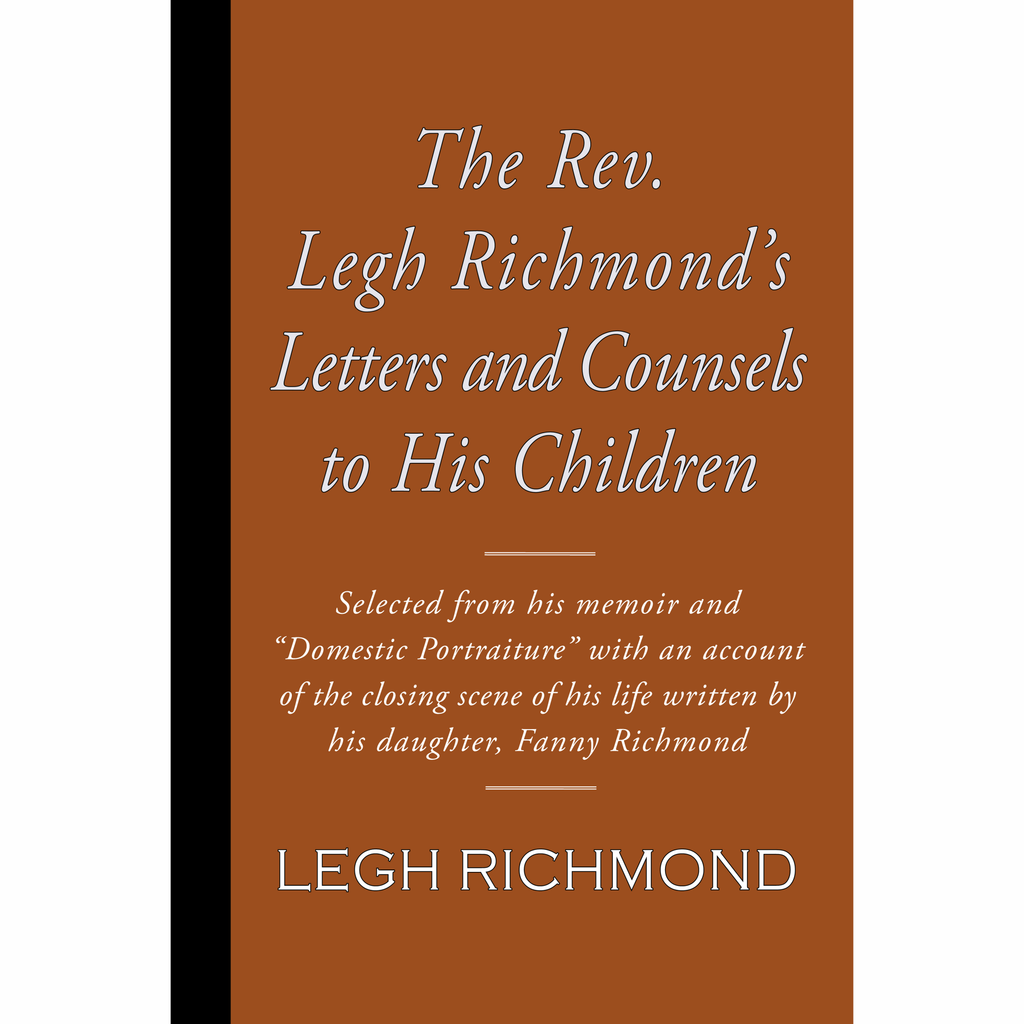 The Rev. Legh Richmond's Letters and Counsels to His Children by Legh Richmond and Fanny Richmond.
---
Selected from His Memoir and "Domestic Portraiture" with an Account of the Closing Scene of His Life Written by His Daughter Fanny.
Richmond Legh Richmond imparts wisdom to his children through letters which include lists of good behavior, topical studies and poems. Amidst the swirl of life with twelve children he pleas for closer relationships and hearts that love God. Occasions like birthdays, marriages, ministry, sickness, and death, add gravity to his sentiments. While his counsel is wisdom for children, his loving caring attitude is a good example for parents. The letter from his daughter Fanny recounts Rev. Richmond's last days. It reveals a father who left letters in their rooms as the preferred method of communication. Fanny states that he was a sensitive person who had an excellent perception of the beauty of the outdoors. She closed her letter with her hope for his legacy because "the seed of the righteous is not forsaken."
Paperback 6X9, 138 pages, ISBN 9781941281796
LEGH RICHMOND (1772–1827) was born in Liverpool, England. His father, Henry, was a physician. As a child he had a bad fall and permanently injured his leg. He attended Trinity College in Cambridge and received his A.B. and M.A. degrees. He soon married Mary Chambers. The young clergyman entered the ministry in the Isle of Wight in 1797. When he read Practical View of Christianity, he had a spiritual awakening, and respectfully named his son Wilberforce, after his much loved friend William Wilberforce. On the Isle of Wight he met The Dairyman's Daughter, The Young Cottager, and The African Servant. In 1805 he moved to Turvey, where he was a much loved pastor and wrote The Fathers of the English Church.
FANNY RICHMOND (  -1886) is the daughter of Legh Richmond (1772-1827). She wrote the letter of the last days in the life of Legh Richmond, which is at the end of the book.
---
Share this Product
---
More from this collection