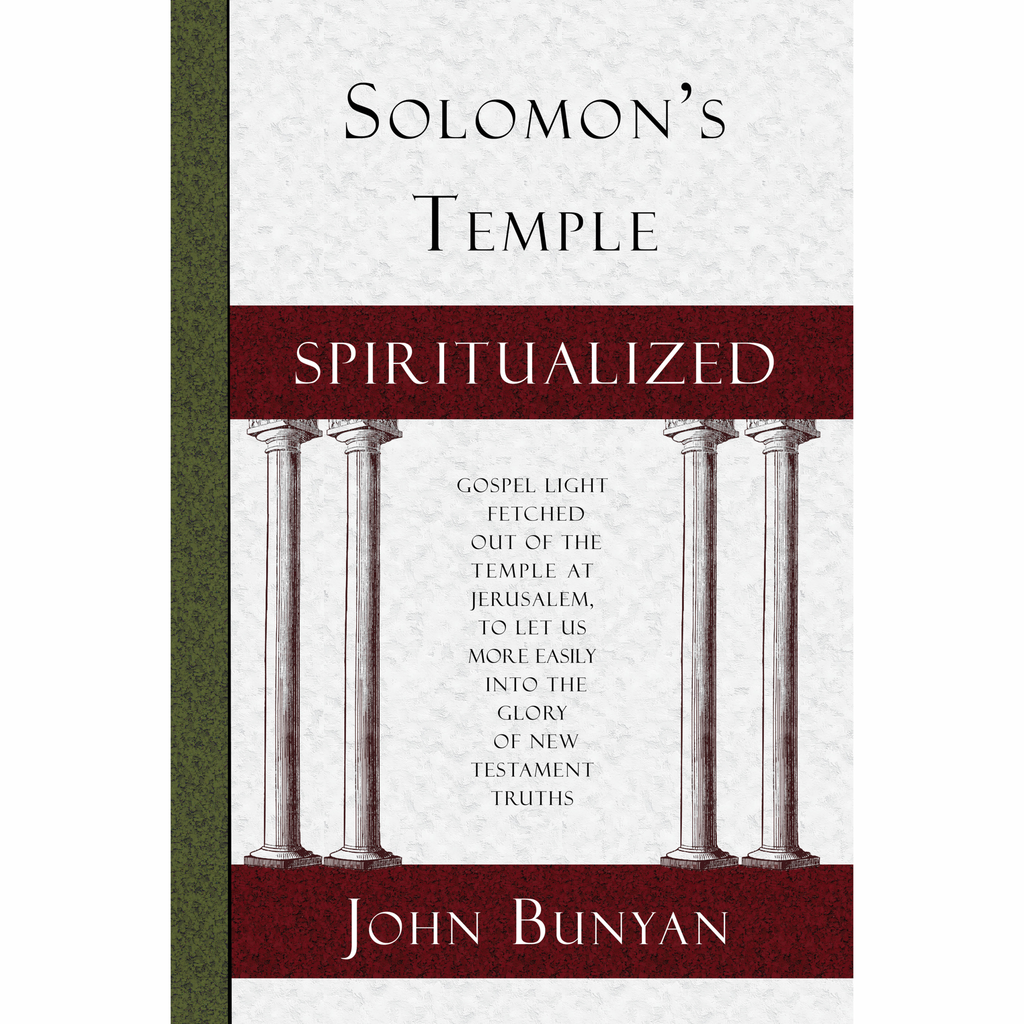 Solomon's Temple Spiritualized by John Bunyan
---
The use of Solomon's Temple is described as a foreshadow of salvation through Jesus Christ. John Bunyan used his extensive scripture knowledge to detail seventy Old Testament sacrificial elements and relates the commonality of concept with that of the New Testament. This edition is the George Offor text including his introduction and notes. Every part of the building, including the foundation, its altar, its courts, the holy of holies, all the utensils, and the ark, were types of that more glorious system which, in the fulness of time, appeared as the antitype, and perfected the Divine revelation. The temple becomes therefore an object of our special attention as a light to guide us while searching into gospel truths.-George Offor.
Paperback, 132 pages. ISBN  9781935626022
John Bunyan (1628-1688) was born in Harrowden, Elstow, England. Early he was a tinker who followed in his father's occupation. He had years of vain pleasures followed by law abiding religiosity. After he struggled in his thinking, Bunyan became a true Christian and was baptized in 1653. His natural gift for preaching became evident, and his ordination was by popular demand. His conviction to preach was at whatever the cost and in 1660 he was imprisoned for 12 years for preaching without a license. He is a favorite among the Puritans and was an ambitious writer with over 60 works to his name, including the famous "The Pilgrim's Progress."
George Offor (1787–1864) was born at No. 3, Postern Row, Tower Hill, England, where his father (George Offor, Sr.) was a book-seller. He trusted in Jesus as his savior very early in life and was a Baptist . He began his own business selling old books, and he became proficient in obtaining rare books for clients. He was a literary editor, bibliographer, and prodigious book collector. He was employed in many government offices and was on many boards. He was the principal agent in formation of East London Auxiliary Sunday School Union.
---
Share this Product
---
More from this collection