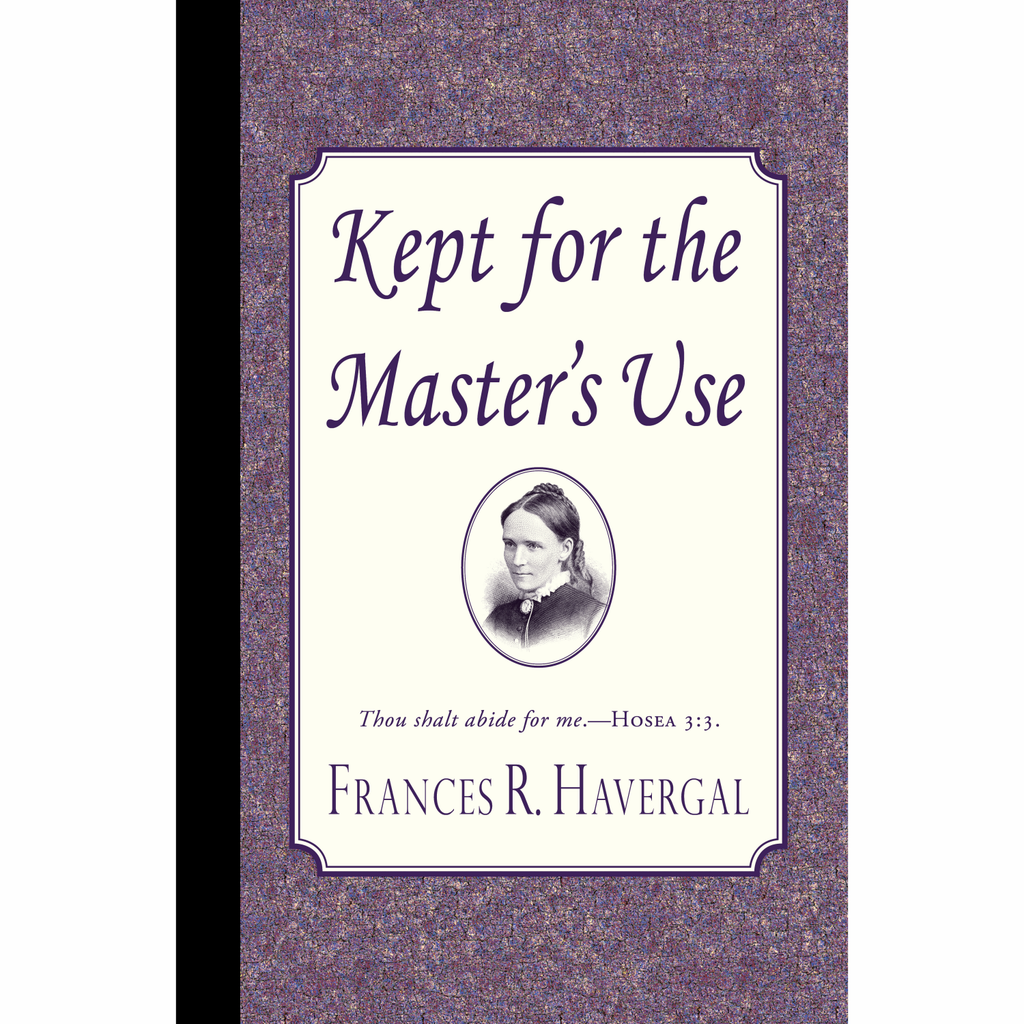 Kept for the Master's Use by Frances Ridley Havergal
---
Frances Ridley Havergal shares her devotion to Jesus in this heartfelt exposition of the hymn, "Take My Life and Let It Be." Chapter by chapter, one for each two line stanza, she implores the reader to examine their lives. This book is filled with common sense practical help to see through excuses, half-heartedness and doubts and to move closer to the Savior. Her earnest pursuit of a more dedicated heart will help anyone to live a more committed, consecrated life.
Paperback 8X5.25, 146 pages, ISBN 9781935626060
Also available: ePub Version Here $0.99
Also available: Hardcover Version Here $12.95

Frances Ridley Havergal (1836–1879) was born in  Worcestershire, England. Her father, Rev. W. H. Havergal, was a vicar and a hymn writer. The name Ridley came from her Godfather: W. H. Ridley, Rector of Hambleden, who descended from Bishop Ridley, the martyr. She was nicknamed "Little Quicksilver," because she was bright quick and clever. She possessed gifted intelligence and was reading at age three. She memorized many books of the Bible. Her mother Jane, died when she was 11 years old. She went to boarding school in Belmont. She had a disease called erysipelas (a painful red infection on skin and/or face) in 1851. She went to school in Germany, at Louisenchule, when 16 years old until 1853. She was very active in the Y.W.C.A. and conducted weekly meetings. She traveled to Switzerland several times with different people. Intelligent and educated, her life was characterized by a deep earnest consecration to Jesus. She wrote many devotional books and hundreds of hymns and poems. Favorite hymns of hers are "Who is on the Lord's Side," "Lord Speak to me," "Truehearted Wholehearted," "Like a River Glorious," and "Take My Life and Let It Be."
---
Share this Product
---
More from this collection